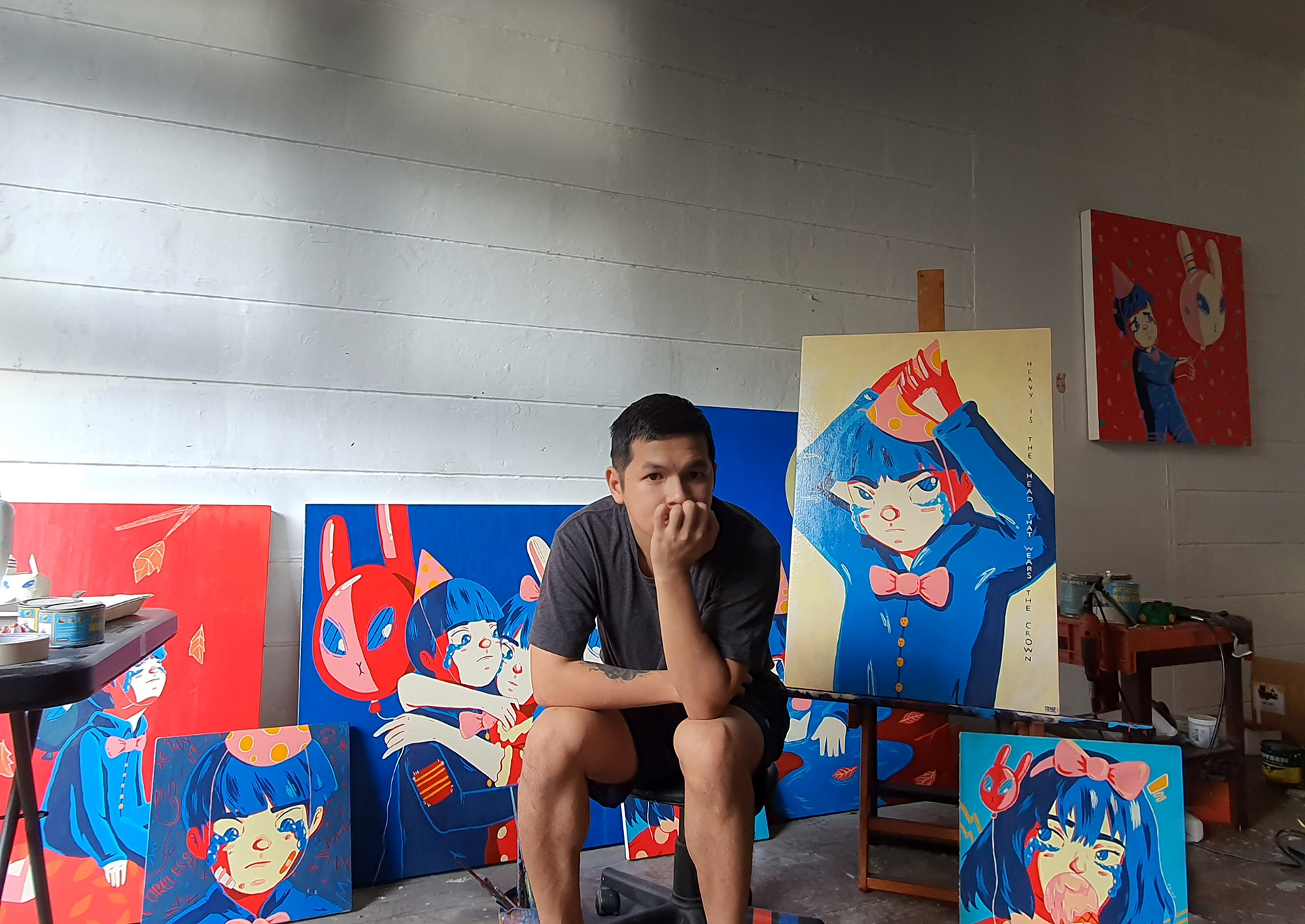 Born in Manila, TRNZ (Terence) was introduced to art through dubbed Japanese animes airing daily in their local television.
After receiving a BFA Major in Advertising, he spent his early years as an art director in TBWA/SMP, a global network advertising agency. In 2017, he drastically shifted directions and started dabbling into painting and gallery exhibitions. 
TRNZ's art revolves around his own created universe of characters, Loons, the alien-esque rabbit balloons, and Baby Blue Eyes, the adorable teary-eyed boy with a party hat. Despite working with a specific color palette, he tries to evoke a different personality every time. He channels his personal experiences of growing up in each artwork. Highlighting the different stages of his upbringing, and how it relates to his present self. 
From acrylic paintings to playing with various objects, TRNZ's works jump from one medium to another.
World Illustration Awards '18 - Honorable Mention
3x3 Illustration Show '18 - Honorable Mention
Adobo Design Awards '18 - Gold Award
Bloom Award Warsteiner - Shortlist
MADE (Metrobank Art & Design Excellence) - Semi-Finalist
Art in the Park '19 (Vinyl on Vinyl Gallery)
Art Fair
"Camping Trip"  Qube Gallery - 
Three-Man Show 
Xavier Art Fest (Vinyl on Vinyl Gallery) 
Art Fair - Sept 27-28 
"My Idle Mind" (Vinyl on Vinyl Gallery)
Solo Exhibition - October 5
"Fancy Your Chances" (Space Encounters Gallery)
Solo Exhibition - Nov. 21
"Art House" (Vinyl on Vinyl Gallery)
Group Show - Feb 6
ALT 2020 (Vinyl on Vinyl Gallery)
Art Fair - Feb 13 - 16
Art Moments Jakarta (Vinyl on Vinyl Gallery) Art Fair - April
"Everyday" (Vinyl on Vinyl Gallery) Group Show - July
"Camping Trip II" (Qube Gallery Cebu) 
Three-Man Show  - Aug