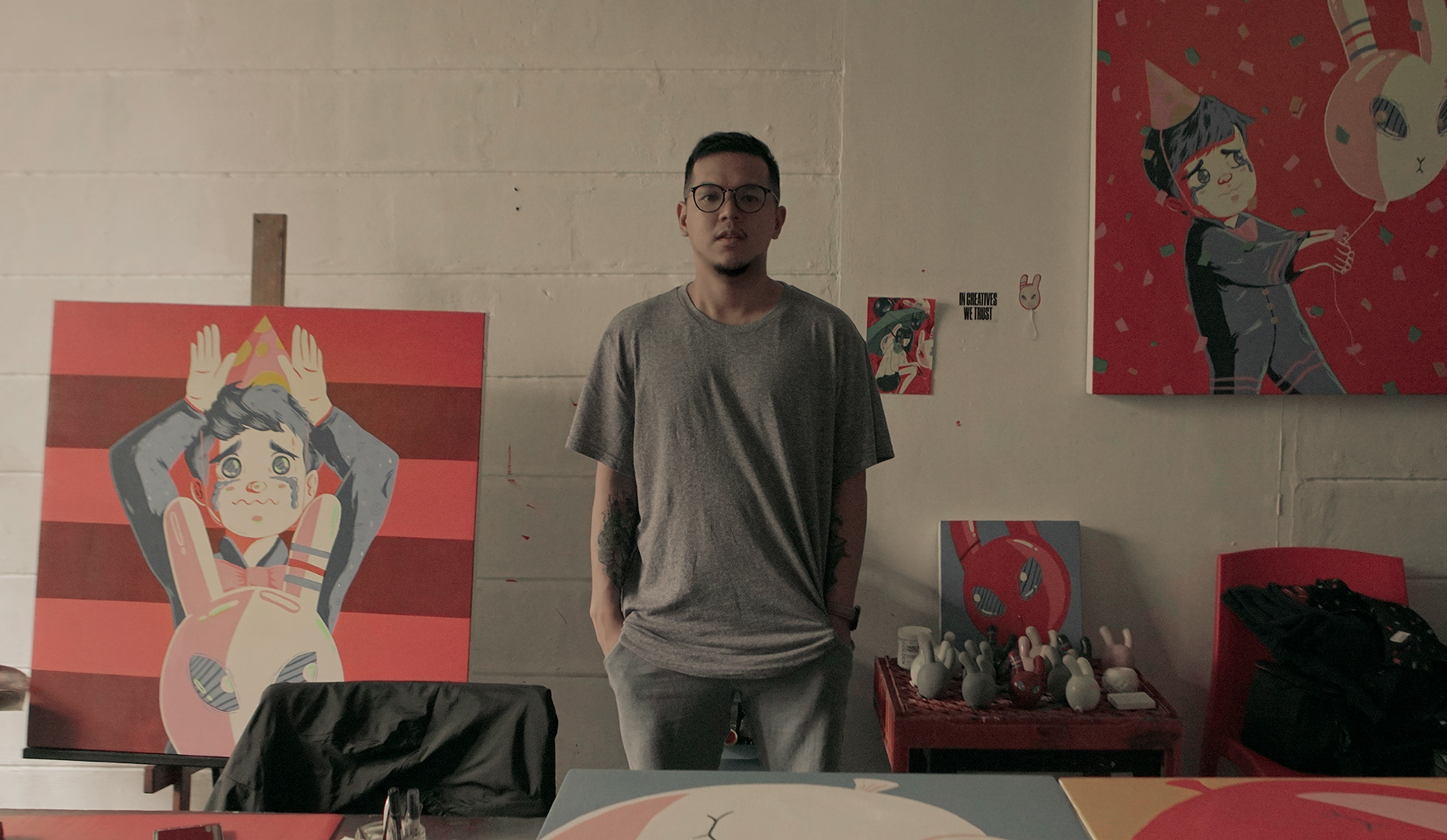 Born in Manila, TRNZ (Terence) was introduced to art through dubbed Japanese animes airing daily in their local television.
After receiving a BFA Major in Advertising, he spent his early years, being an art director in a prominent advertising agency.
In 2017, he drastically shifted directions and started dabbling into painting. 
TRNZ's art revolves around his own created universe of characters, Loons, the alien-esque rabbit balloons, and Baby Blue Eyes, the adorable teary-eyed boy with a party hat. Despite working with a specific color palette, he tries to evoke a different personality in each of his works. From acrylic paintings, to digital work and playing with various objects, TRNZ's works jump from one medium to another.
World Illustration Awards '18 - Honorable Mention
3x3 Illustration Show '18 - Honorable Mention
Adobo Design Awards '18 - Gold Award
Bloom Award Warsteiner - Shortlist
MADE (Metrobank Art & Design Excellence) - Semi-Finalist
"Fright Night" Hidden Space Gallery 
Group Show
"Revision_" Nova Gallery 
Group Show
Bloom Arts Festival '17
 Art Festival
World Illustration Awards / Somerset House, UK
Awards Showcase Exhibition
Bloom Arts Festival '18
 Art Festival
Art in the Park '19 (Vinyl on Vinyl Gallery)
Art Fair
"Camping Trip"  Qube Gallery 
Three-Man Show (with Mister S and Reen Barrera)
Nova Gallery Anniversary Show
Group Show
Xavier Art Fest (Vinyl on Vinyl Gallery) 
Art Fair - Sept 27-28 
"My Idle Mind" (Vinyl on Vinyl Gallery)
Solo Exhibition - October 5
"Fancy Your Chances" (Space Encounters Gallery)
Solo Exhibition - Nov. 21